2020, while being a wild ride, reinstated one thing – the power of having an Ecommerce website.
I am sure most of you have purchased, or at least, surfed an online shop in the past few days. And if you have, know that you aren't alone.
Global Consumer Survey of 2019 reported that 33 percent of respondents purchased items online at least once a week. That's just how integral the shopping method has become in the lives of many!
Statista reports that there are more than 2 billion digital buyers around the world. Moreover, Ecommerce currently accounts for sales worth 3.53 trillion USD worldwide. This is further expected to increase to over 6 trillion USD by 2023.
Therefore, launching an online shop is quite a profitable venture in modern times. However, getting your website noticed might not be as easy.
While there are millions of sites online, consumers only ever click on first-page results, with Search Engine Journal reporting that the first result gets 53 percent of the organic traffic. Hence, it is important to implement SEO tactics to boost your Ecommerce store's ranking.
One tactic worth implementing is link building.
Link Building for an E-Commerce Website Explained
As per Google itself, backlinks and content are among the top ranking factors for a web page. Yet, SEO Tribunal reports that 65 percent of marketers find link building quite hard.
The first step is to understand what link building entails and why it is important, especially for an online store.
In layman's terms, link building refers to the process of getting other relevant websites to link back to yours. When reading a blog, you might have seen that the blog links back to various other sources and articles for further enriching the readers' experience. The sources it links back to is said to have gained backlinks.
But, not all links matter for SEO. Instead, the trick is to get authoritative and relevant websites to link back to your platform. Google associates your authenticity on the basis of the website that links back to you. A backlink from CNN or Harvard Business Review is likely to showcase that your platform is credible too!
Since E-commerce websites depend on sales and conversions, getting enough traffic is crucial. Link building acts as an off-page SEO tactic that not just helps increase your E-commerce store's visibility online but also helps in establishing trust with the target audience.
5 Tips for Building Links
Here are five of the top ways to earn quality backlinks for your E-Commerce Website.
Have a Resource Section
A lot of people surf the web seeking information. Yet, many brands don't satisfy them. A survey by Stackla revealed that 49 percent of consumers don't think that businesses provide authentic content.
Yet, all businesses, especially E-commerce stores, can attain various benefits by providing meaningful and relevant content to their visitors. A great way to do so is by having a dedicated Resource or Blog section on your website.
There are two advantages to this.
Firstly, people searching for information pertaining to your niche will read your blogs and remember your name. This improved brand awareness will come in handy when they are looking for an E-Commerce platform. Secondly, other websites and bloggers will seek material from your section and hence link back to you.
Blue Nile is an excellent example of this tactic. The diamond selling platform has a dedicated "education and guidance" section on its site. This section goes into detail about the various type of cuts that exist. This helps customers understand jewelry, thereby facilitating their purchase decision.
Try Video Marketing
Gone are the days when the text was the only way to market your platform. Now, videos are considered to be much more effective. In fact, as per Word Stream, 51 percent of marketers think videos produce the best ROI.
Video content also has the power to improve your link building opportunities. Within your blog, don't just write textual content. Instead, film relevant videos. This can include in-depth instructional guides, walk-throughs, and brand stories.
This medium allows you to truly present your Ecommerce site's brand persona to your target audience. Since videos feature higher engagement rates than other types of content, there is a higher chance of it being noticed and hence being linked to other websites.
For instance, let's say your Ecommerce store focuses on selling books (just like Amazon once did!). You can create videos about book reviews or dramatic readings. Other bloggers who review the mentioned book will then embed the video in their content, thereby allowing you to build links for your E-commerce website.
Guest Blog
Guest blogging is often equated to better lead generation. Various case studies of Neil Patel certainly depicts this. For instance, it mentions how a single guest post on Moz by Jon Cooper earned the business 400 hits!
Guest blogs are also a great way to create backlinks for your E-Commerce website. Let's just say that if no one organically helps you in getting backlinks, you can submit your own posts on their platforms and link back to yourself.
How do you begin your guest posting adventure? I personally use Google for it. All you have to do is search blogs of your niche with the right keywords, and voila, you will get top publishing websites. Sift through them and see which website best aligns with your Ecommerce site.
While you are at it, make sure to read their publishing guidelines well. Look through the websites' posts to understand what type of content they approve. Include relevant links to your website.
For instance, let's assume you run an online apparel store. Find the right websites by searching the following.
Then, come up with a trendy and relevant topic. Let's say you decide to write an article on "Top Winter Outfits for 2021". Add links to your winter collection to ensure that it seems contextual and relevant. This is because adding a link without it making sense for the post will likely lead to your blog being declined.
Leverage the power of influencers
Along with the immense popularity of social media platforms, another trend that has been seen is the rising power of influencers.
According to Digital Marketing Institutes, approximately 70 percent of teens trust influencers more than traditional celebrities! Moreover, 49 percent of people rely on influencers for product recommendations.
Let's face it; it will be foolish to not leverage this power to boost your link building opportunities. In a world where most consumers are weary of branded content, using influencers' follower base rather than your own is a great idea to promote your Ecommerce platform.
Offer sponsored content to influencers that resonate with your brand's image. For instance, extending the above example, you can look for fashion gurus online for your online apparel store. Ask the influencers to dress in your branded clothes and add links in their descriptions or bios.
Betsey Johnson had a winning influencer campaign a few years ago. To boost its Mother's Day content, the fashion designer collaborated with fashion bloggers where each of them talked about their most favorite Betsey Johnson item to gift to their mothers.
The content itself is not promotional. Yet, it promoted the brand while building links through the various top bloggers.
Find and fix your broken links
Websites are quite dynamic. You might have written a resource years ago, which may no longer exist anymore. However, such broken backlinks are lost link building opportunities.
The good news is that you can easily reclaim them by seeking each website that links to the resource and suggesting another alternate resource within your website. Similarly, you can see which websites feature broken links from your competitors and suggest your link to them instead.
I am sure you might be wondering about how to find such broken links in the first place. After all, if you have been in the Ecommerce business for a long time, the chances are you have a lot of web pages and blogs. And there will be a lot of blogs featuring links from your rivals.
Don't worry! You don't have to manually look for broken links. Instead, there are various tools out there that do the job for you. One such tool is Ahrefs.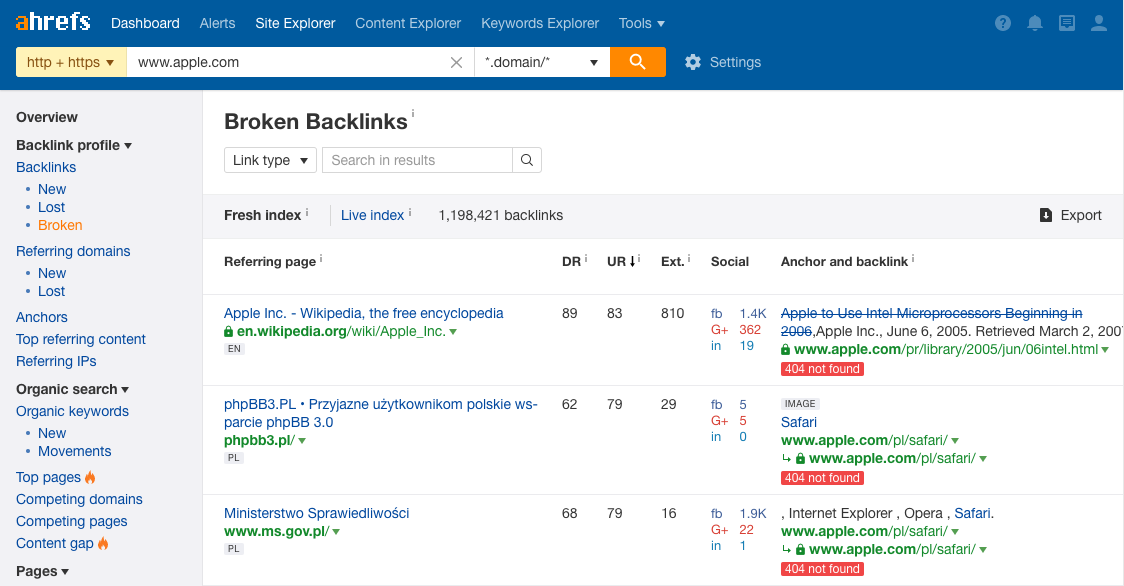 Once you have identified potential websites featuring broken links, reach out to them via an outreach email and suggest a relevant alternate link from your website.
Ending Remarks
I am of the view that there is no better time than right now to have an Ecommerce store. Even stores that previously were only brick-and-mortar are now entering the online world.
But, with increasing competition, it can get considerably hard to sustain your online store. Use the five tips to improve your off-page SEO. Combine this with other SEO tactics like content optimization, citations, web page optimization, etc.
Together, this will ensure that your Ecommerce store is at a respectable position on search results. You can then at least remove online visibility from your list of worries!
Image Source:
https://www.statista.com/statistics/379046/worldwide-retail-e-commerce-sales/
https://ahrefs.com/blog/link-building/
https://www.campaignmonitor.com/blog/email-marketing/2020/01/the-ultimate-list-of-video-marketing-statistics-for-2020/