When was the last time you searched for information about a business but was disappointed by the results?
To me, it happens a lot. It is surprising how many brands don't understand the importance of citation for SEO as well as for optimum brand building.
According to GoGulf, 46 percent of all searches on Google are looking for local information. And 72 percent of people who seek such information end up visiting a store. Joel House Search Media further reports that localized searches end up with purchases 28 percent of the time.
This is why it is essential to cater to a customers' need for information regarding a business.
Think of it this way. If a consumer finds about your business online and wishes to visit it, they are likely to look for your location and contact number. Here, a lack of listing can cost you a potential customer. And on top of that, Google won't give your website a high ranking either. So, it's lose-lose!
Therefore, it is imperative for all businesses to have citations.
Definition and Significance of Citation for SEO
Citations provide information about a business. They provide information about the name, address, and phone number of a company. Some websites allow more than the NAP information to be included. For instance, photos, website links, and descriptions about the business may also be included in the citation.
Citation for SEO doesn't just include one listing or directory. Instead, marketers use the term when talking about different business listings that are present on a variety of websites and locations on the web.
There are various reasons why citations are essential, both for SEO and for attracting customers.
For starters, such citations help businesses establish trust and authority. Additionally, it targets customers who don't solely search about a business on Google and instead use platforms like Yelp or Yellow Pages.
This is also the reason why business directories are among the first search results for local searches. Here is an example of what you get when you search for mechanics in Nottingham.
From an SEO point of view, citations help in boosting the rank of your website. This is because the factor is among the ranking factor within the algorithm of search engines. Therefore, if a given business has more citations, then it is likely to be ranked highly on a search engine.
This is because search engines associate a high number of independent citations as being evidence of your legitimacy.
The Main Types
Now that you can comfortably answer what is a citation, the next step is to understand the types that exist.
While many tend to think that citations are almost always a part of online business directories, there are other types of citation as well.
Broadly speaking, you can classify citations into two categories.
Structured Citations
These are the most common types of citations. These citations are likely to be found on high-quality and authority business directories like Yelp, Super Pages, and Yellow Pages.
Structured citations tend to feature information about a business's name, address in proper pre-decided format. Some sites even feature schema data that further help search engines in detecting the listing. Some directories may include information like company logo, reviews, category of business, and hours of operation.
Within structured citations, there are general directories as well as industry-specific citations.
Examples of general directories include:
Foursquare
Superpages
Better Business Bureau
Apple Maps
Google My Business
Yellow Pages
Acxiom
Yahoo! Local
Facebook
Yelp
Bing
Similarly, listings for specifically the legal sector include:
Justia
Super Lawyers
FindLaw
Lawyers.com
Best Lawyers
Martindale-Hubbell
HG.org
Manta
Unstructured Citations
Some citation listings fall under the unstructured citation category.
Here, the information is not standardized, as in the case of structured citations. However, almost always, the citations do include the business name, address, or phone number.
But, they are not as rigid in their format. At times, the address may solely reflect the city, or the only thing mentioned can be the contact number of the business.
Such citations stem from a variety of sources. This can include social media profiles. For instance, social media profiles usually have information about the name and address of a business or even a person. Hence, it comes under unstructured citation.
Opportunities for citations are much more when it comes to building unstructured citations. For instance, a guest blog, press release, podcast, or YouTube video can include information about a given business in the description, thereby helping in improving the organic ranking efforts of your brand.
For example, here is an example of a UK based coffee shop named Milk Beach receiving an unstructured citation from GQ within their article about the best coffee shops to choose from in London.
Another thing common in unstructured links is the presence of a backlink to the brand's website. As you can see, the GQ article links back to the coffee shop. This further makes it a powerful citation for SEO. However, it is essential to note that not all unstructured citations have backlinks.
The Citation Building Process
There is an art to building citations that you must nail to ensure that your business is reflected on the top search result for the right queries. Here is how you can create your citations.
Get listed on top data aggregators
Don't panic! The term sounds technical, but it is not. Data aggregators refer to distributors of data that compile business information from a variety of public records and then feeds them onto search engines as well as directories.
Data aggregators then make use of business's as well as data facilitators to both verify and claim company information. This allows businesses to avoid having to manually submit information about their business to thousands of websites available on the internet.
The primary aggregators include InfoGroup, Foursquare, and Neustar Localeze.
Getting listed on these aggregators is relatively easy. All you have to do is either claim or submit your business listing. Do so by searching for your business. If your listing already exists, claim it. If not, submit a new one.
Here is an example of Third Rail Coffee checking out its listings for claiming on Express Update (InfoGroup).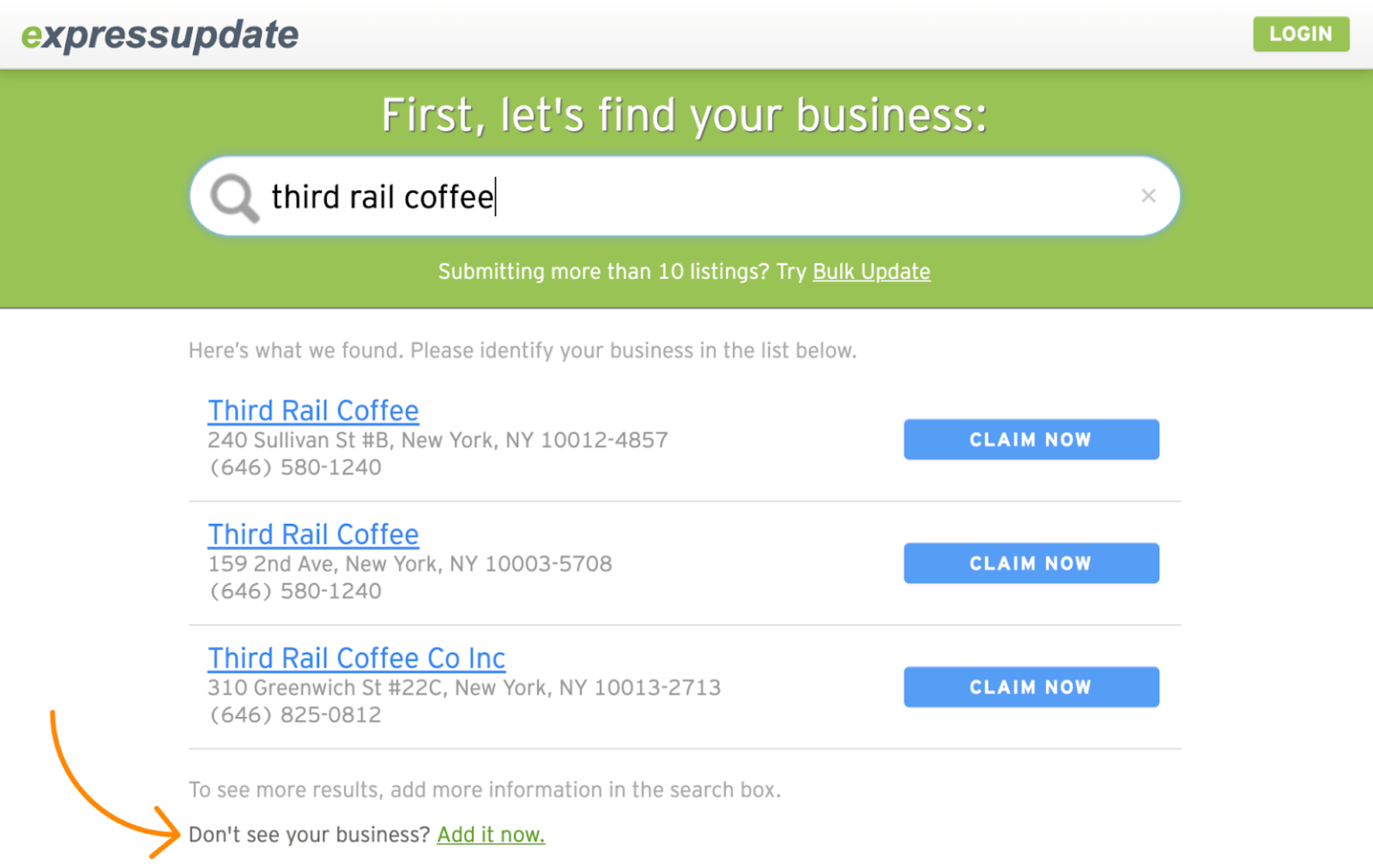 Submit to other core websites
While you use data aggregators to eliminate the need to provide information to every small listing, always make a point of manually submitting information to the core websites.
Use a citation generator to track your listing on popular websites like Yelp, Google My Business, and Yellow Page. Whenever there is a change in information, don't just rely on data aggregators. Instead, submit the changes separately on the core websites.
This is because these sites feature immense traffic and hence require quick updates in the information. If you don't do so, it will definitely lead to a misinformed potential customer.
Submit to local listings
After getting general citations, it is time to go specific with your SEO efforts.
For instance, tourist spots and hotels must be listed on TripAdvisor. Similarly, attorneys must have a presence on findlaw.com, and realtors need to have a listing on realtor.com.
How do you find these local listings?
Well, for starters, you can use the same search engine you wish to rank highly on. Use industry-specific and local keywords. For example, if you operate in Florida, search for Florida Business Directories.
Google will present a variety of directories to you. Analyze each site and see whether it is worth listing on it.
Secondly, you can make use of the Link Intersect tool of Ahrefs. This tool will allow you to compare your backlinks with your competitors' linking efforts. Hence, it will enable you to discover citations you can try to aim for.
Prioritize: All Citations are not equal
While implementing your citation strategy, it is essential to know what to focus on. While every citation will add to your SEO efforts, it is imperative to know which ones to focus more on with a limited budget and time.
The first thing you must know is that all citations are not equal. This is true even if all of them come from reputable sites. Generally, listings about a company's NAP information on the .gov site are much more useful than Yellow Page.
Similarly, depending on your sector, industry-specific citations will be more critical for you than general listings, despite the reputation of the latter.
So, know where your target audience is most likely to search for businesses within your niche. And seek citations accordingly.
Ending Remarks
Usually, when you think of SEO, you think of link building and content optimization. I won't lie; before entering this field, I thought the same. However, the world of SEO is much more complicated than it seems. As search engines continue to refine their algorithms, it is crucial to use a 360-degree approach. Your brand will only rank highly if you take consumer behavior into account. So, put yourself in your target audience's shoes. Think about what a consumer is likely to do online. And optimize your presence accordingly.
Image Source:
https://www.brightlocal.com/research/seo-citations-study/