I love to shop…tell me one person who doesn't?
For me, the thrill of a shopping spree lies in getting the best bargains. I crave 50% off and 'buy 1 get 1 free' deals. But the cherry on top of the pie is 'FREE'. It has a magnetic appeal like no other.
Ohh, but they're all sooo irresistible. I mean, why not go after anyone? It's your chance to get the product you always wanted- at a lower cost. And with COVID-19 casting a grim shadow on the current economy, every penny counts.
The same goes for your content creation campaign.
As a B2B marketer, creating alluring, engaging content is only one side of the online battle between brands. Staying within budget is the other half.
Juggling both aspects for small business owners can be overwhelming.
But you can't compromise on the quality of content you upload. It's what other companies use to gauge what kind of business you are. So it's not surprising that Content Marketing Institutes states that 92% of marketers highlight content as a critical asset for their business. In order to establish yourself in the industry, you need to concentrate on generating high-quality, engaging content. But with the standard of content continuously growing, you'll need to use the best content marketing tools on the market.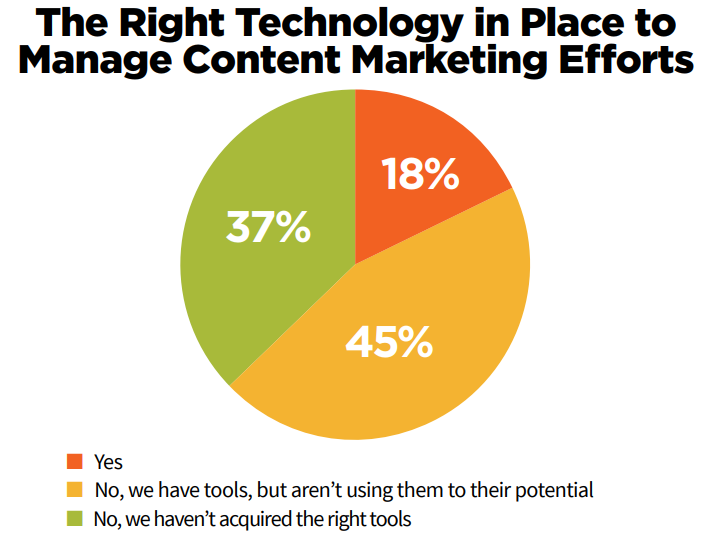 But how are you supposed to manage a budget if digital marketing tools come with a hefty price tag?
Needless to say, the tools you choose can either break or make you. In fact, it can make the difference between remaining profitable and getting knocked out of the competition.
Well, that was precisely what I was talking about before. There are numerous digital marketing tools free of cost. And there's no shame in using them- it's just a way of being resourceful. Some of the best content marketers utilize free marketing tools.
I know times are tough. But don't let a lack of budget hold you back. All you have to do is discover free digital marketing tools that will work in your favor. Sure, it can take more than a little research. You may even need to consider taking a trial run to see if the tool matches your business needs.
But hey, I'm on your side.
I've taken the liberty to compile some of the best free marketing tools as well as those available at minimal cost to help you with your content creation goals.
Budget-friendly content creation tools
1. Canva
Need help making unique, professional-looking visuals that can grab your audience's attention? Whether it's for a social media post, poster, presentation, blog graphics, invitations, infographics, or any of your digital marketing needs, Canva has the solution.
So first on my list, you'll find one of the easiest content creation tools that you can use to create visual content. Canva is a renowned marketing tool similar to Photoshop- but much easier to use.
The beginner-friendly platform allows you to upload, edit, and customize photos with the simple drag and drop interface. Home to thousands of templates and images, there's no end to the designs you can produce.
Want to learn how to use the free content creation Canva features to the hilt? Simply watch the free video tutorials on their website. Interested in more features? No problem. Canva Pro is a paid premium version available at varying monthly packages under $30.
2. OpenShot
B2B marketers often require videos to boost their branding efforts. In fact, according to OptinMonster, 71% of B2B marketers use video marketing. As part of your inbound marketing strategies, you'll need to promote video content on various platforms such as Facebook, Instagram, and YouTube.
But your video needs a good deal of tweaking in order to make an impression on the target audience. Don't worry, you're not alone.
Many brands utilize video editing software to enhance the effects. If you're looking for a free, easy-to-use editor with powerful features, OpenShot can work wonders. The intuitive interface and minimal design can help even beginners' master the art of video making.
Merely drag and drop video, audio, or images and start resizing, scaling, and trimming your clips. But that's not all. It offers incredible animation capabilities, digital video effects, 3D animated effects, and much more.
And since OpenShot supports multiple operating systems (Mac, Linux, and Windows) and is available in more than 70 languages, it's being used all around the world.
3. Piktochart
Done a lot of research and have loads of statistics you want to share with other businesses? But you don't want to bore your readers with a list of numbers.
Well, then you need to start creating an infographic. Data in the form of bite-sized pictures is so much easier to digest and pleasing to look at. Guess what? It's the fourth most used type of content marketing and has seen the biggest increase in usage among B2B marketers in the last four years.
Piktochart is a great free marketing tool for small businesses. Using infographics is a low-cost technique to drive traffic to your business, increase conversions, and help grow your audience. Piktochart is an easy-to-use online marketing tool that can help anyone develop stunning infographics. You can start out free, but there are a couple of premium plans available to match your content creation needs.
4. Feedly
While the first thing that comes to mind when talking about content creation is visual content, it is not the only aspect you should be focusing on. You need to continually generate ideas for your blogs as well. But finding exciting topics that align with your target audience's interests is not always easy, especially if you have to create several blogs a month.
Personally, I like using BuzzSumo even though monthly plans are $99+. However, it does offer a 7-day free trial for those who are interested.
But if you are searching for cheaper alternatives, several free content research tools can help you select the right content for your niche. Feedly is a good choice. It helps find, read, and share content that is relevant to your business. More importantly, as a free content discovery tool, Feedly shows trending articles based on your feeds.
And with the Pro plan, you can tap into unlimited sources, search, and utilize third-party integrations such as Zapier, Slack, Evernote, etc.
5. SlideUpLift
Case studies still remain an integral part of the business world. In fact, it's a great way of convincing a client of your capabilities. 78% of buyers look into case studies before making buying decisions.
But the secret lies in the way you showcase your company's success. You need to present case studies effectively so that you not only engage potential customers but also impress them with your solutions and build trust.
Are you searching for free content creation tools that will help form an impactful case study for your business? Look no further. SlideUpLift is a remarkable utility that allows you to create powerful presentations using ready-to-use PowerPoint tools and templates. And since they're editable, you can customize templates best suited for your business and download instantly for free. Could things get simpler than this?
On a closing note
Besides these free online marketing tools, you should invest in a content scheduling tool. It can help streamline marketing processes and schedule content in advance. Remember, it's imperative that you create a steady supply of content.
You'll be surprised to learn that B2B companies are now focussing on developing a strong presence on social media.
SproutSocial quotes that 80% of B2B marketers have a social media strategy. So you need a tool that will help you plan your strategies.
Buffer Publish is a scheduling tool that B2B marketers can use. The drag-and-drop interface allows you to organize content publishing schedules across multiple platforms. Users boast that it helps keep everything simple, uncluttered, and easy to use.
More importantly, Buffer Publish integrations seamlessly with web browsers and other B2B marketing tools. The free Buffer plan lets a single user schedule up to ten posts on three social media accounts. But you may need to upgrade to Buffer Pro, Buffer Premium, or Buffer Business if more team members or have comprehensive scheduling needs.
There's no stopping you now!
Becoming a tech-savvy B2B marketer is a great way to face the competitive online space. Finding and utilizing the perfect combination of online marketing tools can be a feat in itself, but don't let the small challenges of running a business stop you from dreaming big. Numerous online content creation tools can help give your business a boost in the right direction.
It's time to get creative- and blow your audience away. But don't forget to keep me in the loop. Tell me all about your content creation adventures and the tools you use in your endeavors. Happy creations!
Image Source:
https://neilpatel.com/wp-content/uploads/2017/08/right-technology.png
https://cdn.business2community.com/wp-content/uploads/2019/11/CanvaiPad3.jpg
https://www.malavida.com/en/soft/openshot-video-editor/#gref
https://lh3.googleusercontent.com/4fPyfvTWHjY4fZ4zlj8xgySPZ1cT4E516pkYlxy9zUwfUQIlzctYv0t4Ncl8UoD7Y6FLrhVjtA=w640-h400-e365-rj-sc0x00ffffff
https://lh3.googleusercontent.com/_45U7ercdQngQrcL2LyJvKx-I-T3XIdtQUmuLi2mN-_kroULKIkWkWePGbFHuSEryVTKImVW9HQ=w640-h400-e365-rj-sc0x00ffffff
https://www.pinterest.com/pin/628181848015405972/
https://buffer.com/instagram