If you surf the web for queries and products, the chances are that you have come across a broken link at least once. Personally, I think broken links are a breach of trust. You tempted me by reflecting the perfect answer to my query in your title tag, only to later show a 404 error when I click on your link? Not cool. So, find broken links and fix them as soon as possible.
Let's backtrack for a second and address the basics.
What is a broken link? Well, it is a dead link that redirects you to an error page rather than the one you wanted to see.
I used to think that broken links were evidence of a brand that just didn't care enough. However, a little research on the matter showcased that even the best of brands have a few broken links on their website.
In fact, according to a study conducted on Fortune 500 Technology companies, Apple had approximately 7,000 broken links on its website in 2014. Cisco Systems had over 11,000!
Even though the issue is prevalent across all major and minor websites, the fact remains that they should be avoided and fixed when possible.
Why you must find broken links on your website?
Before we learn about how to find broken links on the website, you must understand why you must care about them in the first place. After all, as the human psyche goes, we don't like investing energy in work that is not significant.
Reflecting a poor user experience
As per Intechnic, 88 percent of site visitors don't visit a given website after a bad experience with it. And broken links cause bad experiences. This is because they prevent site visitors from accessing the information they sought. They instead find the website useless and are less likely to visit it later on.
Tarnishing your reputation
Just like I feel cheated when I click on a broken link, it turns out; most people have such a reaction. Consumers associate the credibility of a business with the quality of its website. The lesser you are able to provide information to your users, the poorer your reputation will be.
Ruining your SEO efforts
Among the various factors that Google takes into account when ranking web pages, broken links are one of them. Broken links negatively affect the link equity of the website, thereby decreasing SERP.
Best Tools for Broken Links
Now that you know that it is important to address the issue, here are some of the tools to that you can use to find broken links.
Ahrefs
I find Ahrefs to be the ideal tool to find broken links. Generally, the tool is specifically used for link building and competitor tracking. However, its monitoring feature is also excellent, making it perfect for identifying broken links.
The platform delivers a thorough report related to all backlinks present on your website. Apart from discovering any broken external link present on related websites, Ahrefs can also be used to categorize and filter different backlinks.
Google Webmaster
While certainly not the best tool on our list, Google Webmaster is a great platform to find broken links in a cost-effective manner. This is because, unlike other platforms, this tool is free to use. Google Webmaster helps in streamlining the performance of a given website.
Part of the Google Search Console solution, here detailed data is provided to businesses about both internal and external links present on your webpages. This allows website owners to take swift action for broken links.
SEMrush
SEMrush isn't just one tool that helps websites to figure out how to fix broken links. Instead, it is a suite of various solutions, each of which plays a role in analyzing your website as well as your digital marketing performance.
Tools included within the umbrella service are SEO, content marketing, advertising, social media, etc. Regardless of which service you avail of, the platform runs a site audit for the business.
This helps in identifying all prevalent issues on a given website. When you select the "Issues" tab, you can then see which internal and external links are broken.
The free version of the site can help you in auditing over 100 URLs within your site, while the paid version can monitor the entire enterprise site.
WP Broken Link Status Checker
This tool is solely dedicated to identifying broken links. However, you might have already guessed the limitation of this solution – it only works on WordPress websites.
If your website is hosted on WordPress, you can use this checker to authenticate the HTTP status of every image and content link on your site.
The tool helps websites in finding broken links as well as no-follow links. The crawler is always active in the background, without requiring initiation of a session. This means that you will always be notified of the issues on your site, without you having to actively look for them.
Screaming Frog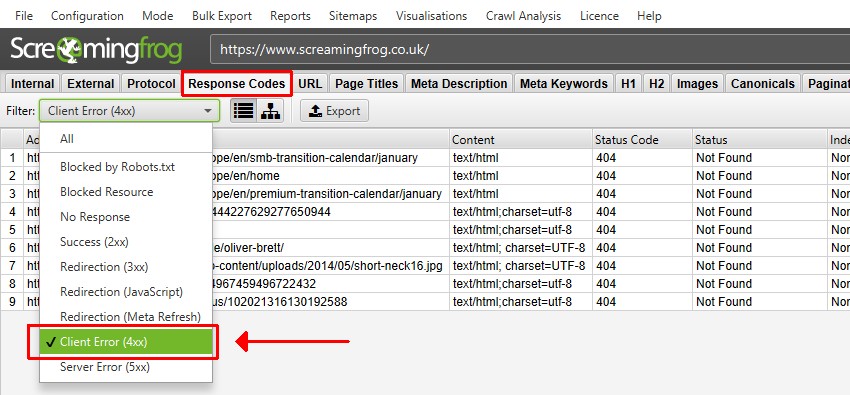 Simply put, Screaming Frog is a web crawler which comes in handy during a website audit. The tool comes in both a free and premium version. While the free version limits the SEO audit to 500 URLs, the paid version offers an unlimited service.
Broken links can be located by running a crawler on your site. Both internal page broken links, as well as external page issues, are detected. By providing the exact URL that is causing the problem, the tool helps save time when fixing the issue.
Sitechecker
Sitechecker offers something other than merely detecting broken links – it provides information about how you can fix the issue!
Additionally, since it is a web tool, it can be easily run on a variety of operating systems and websites. The free version allows businesses to scan up to 100 web pages for free, which is comparatively lesser than the free version offers of other tools in the list.
However, its immensely comprehensive site audit, featuring information about broken links, orphan links, redirect chains, and indexation errors, makes the paid version worth every penny. Sitechecker also helps in identifying content issues like thin pages and meta tag problems.
W3C Link Checker
I debated whether or not to put W3C Link Checker on this list. Personally, I find this tool a tad too slow for my liking. But, unlike me, if you are willing to look past this, you will probably like what this tool has to offer.
For starters, the link checker features a filter system when inspecting for links. You can choose only to check headings, or certain pages, etc. Also, you can opt for a summary of the report rather than a comprehensive one. For people monitoring websites daily, such filters make things easier.
Online Broken Link Checker
This free online tool works on iOS, Mac OS, and Windows, to name a few operating systems. Just like other solutions on the list, this website validator tools help in checking web pages for broken links. Apart from this, it also aids in discovering any bad hyperlink that may be present.
Unlike other free versions, this online tool can scan an unlimited number of web pages and works on both internal and external links. Therefore, this is an excellent tool for startups that don't wish to spend an exuberant amount of money on on-site audits.
The Next Step
You might have noticed one common thing in each of the tools mentioned – the maximum they do is identify broken links for you. But, the question remains, how can you fix them?
Well, as of currently, there is no software to automatically fix broken link problems. Instead, you must examine each link detected and see why it is broken in the first place.
Let's say you updated the URL structure of your website and transferred content to a new page. The old page still exists, and when people click on it, they get a 404 error. To fix this, you apply the 301 redirects so that visitors who click on the old link are automatically redirected to the new URL.
Another instance when your site features a broken link is during link building. Here, a link you added to your content no longer directs users to a proper page. Here, you can either remove the external link from your content or contact the website owner.
It is best to get experts on board to deal with fixing broken links. This is because manually visiting every link, understanding the issue, and then deciding on the best plan of action can become tiring.
Parting Advice
The quest to find broken links on the website never stops. You must always monitor your website for such technical issues. While the task may seem monotonous and tiring, you must do it efficiently to ensure that site visitors have a positive experience with your business.
This ensures that site visitors stay long enough on your website to be swayed by your service. Hence, it is the first step towards converting visitors into customers. And every step matters!
Use the right tools. Find, fix, and repeat.
Image Source:
https://www.superoffice.com/blog/customer-experience-statistics/
https://moz.com/blog/how-to-fix-crawl-errors-in-google-search-console