I was thinking about what element of SEO has remained ever constant. And content optimization is one of the things that came to my mind. Keywords are and will probably always be important, right? This is why keyword research tools will always be among our go-to SEO tools.
Selecting the right set of keywords is immensely important. After all, according to Ahrefs, over 92 percent of keywords get less than ten monthly searches. And while people tend to solely focus on core primary words, long-tail keywords have up to 5 percent more click-through rate, as per Smart Insights.
Identifying the right keywords and optimizing your content for it seems simple enough. However, keyword research can be quite frustrating if you try to do it manually. This is where tools come in as saviors.
Why keyword research tools are lifesavers?
The words you choose to incorporate in your content will govern your ranking in search engines. While the task may appear simple, it is anything but straightforward. This is because there are different types of keywords you need to be mindful of. This includes:
Informational keywords: Usually posed as questions, these phrases are used by searchers when in need of guidance, tips, insights, or solutions about a topic.
Navigational keywords: Words that include product names, which are used by searchers when looking for information about a given service or product.
Transactional keywords: Words used by searchers that are ready to convert into customers.
Commercial keywords: Primary words used by searchers with an intent to purchase.
Each type of keyword matters since it translates to customers at different stages of the buying cycle. And to ensure that your brand reaches the end of the cycle, you need to cater to potential customers throughout their journey.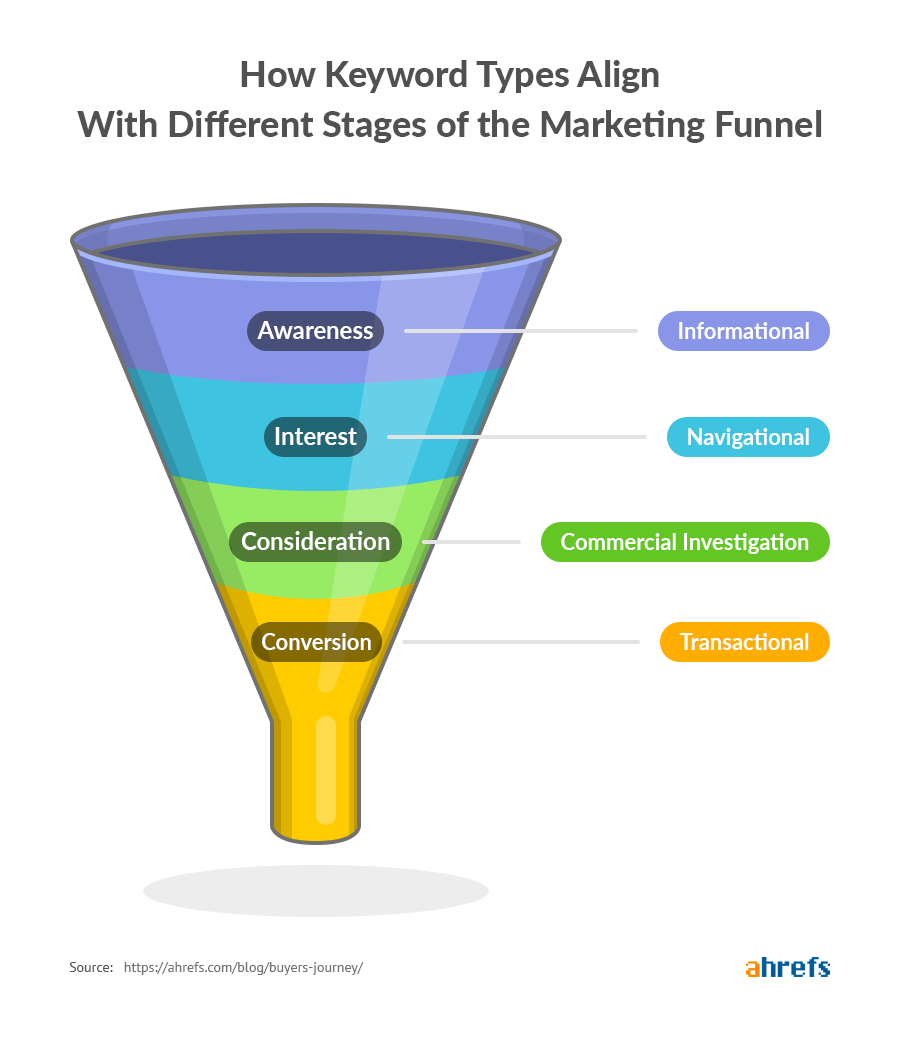 A keyword research tool makes this process easier by identifying the right keywords. Additionally, If you choose the right tool, you will get all the required insights for making the decision. This includes monthly search volume, similar long-tail words, and click-through rates, etc.
It is quite hard to get this information manually. In fact, without tools, the task can take quite some time. And considering that keyword research is just the first step towards content optimization, no marketer wants to spend more time than required here.
My Top 3 Picks
While there are a plethora of keyword research tools out there, both paid and free; I only have a handful of favorite tools. This includes the following tools.
Ahrefs Keyword Explorer
I am sure that this is not a surprise. Ahrefs Keyword Explorer is quite popular among SEO experts. The best thing about this tool is the in-depth insights it provides for each keyword it presents. And mind you, the tool gives a very long list of keywords to choose from!
Apart from getting the usual information about search volume and traffic, the tool takes it further up the notch and gives information about the first-page competition, click-through rates, click-per-search, etc.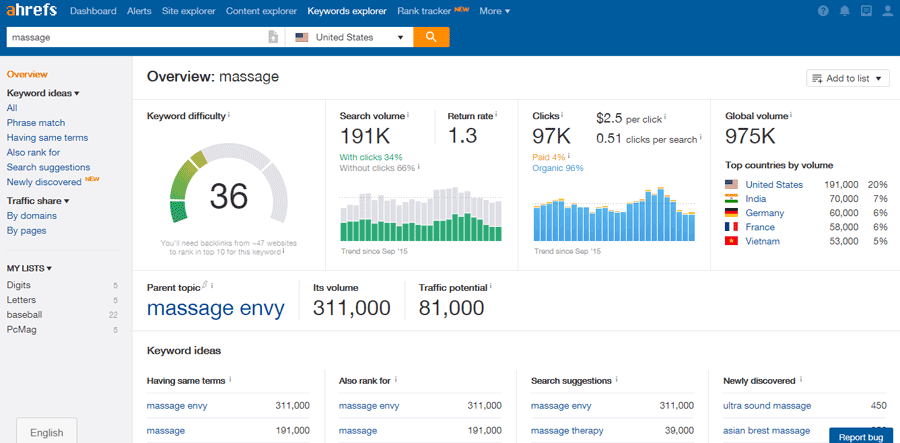 My favorite feature is the keyword difficulty score. Here, the tools tell you just how difficult it would be to get a top ranking for a given keyword. Therefore, you can decide that within your budget and limitations, which words you should aim to rank for.
UberSuggest
Ubersuggest has both a paid and free version, with the latter being quite good among all the other free keyword research tools. I prefer using UberSuggest's keyword ideas for identifying the right long-tail keywords. The graph below depicts just how vital such keywords are.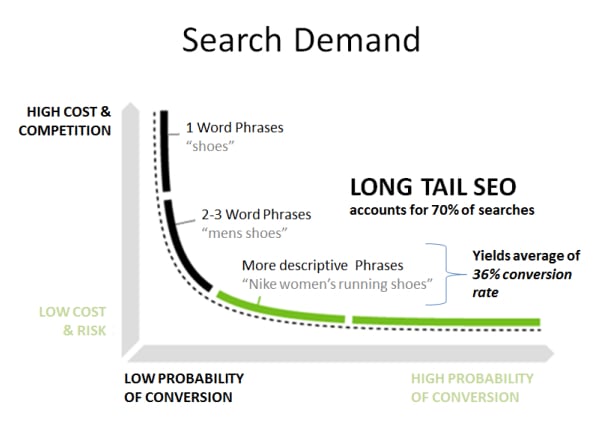 All you have to do is search using the primary word, and the tool gives you a comprehensive list of the different long-tail and primary keywords you can use. For each word, different metrics are also reflected to allow users to make an informed decision.
My favorite feature of this keyword research tool is how it categorizes its keywords into different types. Most people don't bother going into the details and merely select from the "Suggested" list of keywords. But, I like knowing all of my options.
Here is the type of words listed down by Ubersuggest:
Related: Words that are related but not usually the same as the primary word entered.
Questions: Search queries phrased as questions.
Prepositions: Keywords containing two associated concepts.
Comparisons: Keywords that compare two products or brands.
Why do I like this feature? Well, it allows me to identify and include a wide variety of keywords. Not to mention that it is much easier to contextually add different types of keywords into content rather than plain old long-tail keywords.
Google Keyword Planner
As per Word Stream, 3.5 billion searches are made on Google every day! And it accounts for over 92 percent of the total search engine market. Therefore, it is evident that your primary focus of SEO efforts should be Google.
And what could be a better tool for the search engine than a solution presented by Google itself? To access this tool and various other solutions offered by Google, users must first form an AdWords account. The sign-up process, as well as the tool, is free to use.
For a free tool, Google Keyword Planner is quite useful. It offers the critical insights, including competition level per keyword, monthly search volume, and the average cost per click. Rather than just giving keyword suggestions like the above two tools, it offers synonyms and variations of the words.
I like just how customizable the keyword research process can get through this tool. For instance, when searching, you can filter keywords through:
Location: The tools offer search volume data as well as trends based on a given location.
Language: Insights are given about trends and search volume data, according to a given language.
Negative Keywords: This allows you to eliminate all keywords containing words you don't want in your words.
Crucial Tips for an Effective Keyword Research
These tools will surely make the keyword research process considerably easier for you. However, you need to know how to effectively use these tools. During your keyword research, remember these five important tips:
Use the right seed/primary words by conducting a survey of your target audience.
Don't just focus on search volume. See ranking difficulty as well and select words that have the right balance of difficulty and search volume.
Use tools for both general and localized keywords.
Track what your competition is doing and see if you can rank for similar words, even if not the same.
Apart from tools, take help from Google Search to find popular queries.
Research and Optimize
I personally like to mix and match my keyword research tools. Rather than sticking to one, there is no harm in leveraging the best features of the three of them. However, this is just my method. I am sure there are various other ways to do it!
Regardless of what tools you use, make sure to take the keyword research seriously. The fate of your ranking depends on it (and a bunch of other stuff). If you end up using the same tools as me, do let me know what you think about them. Similarly, if you have your own set of top picks, do share it with us by commenting below.
Image Source:
https://ahrefs.com/blog/buyers-journey/
https://neilpatel.com/wp-content/uploads/2017/08/image37.jpg
https://businesscollective.com/6-google-statistics-that-will-show-you-the-value-of-seo/index.html