All your life, you dream about launching your content marketing campaign. One fine day when everything is perfectly in place, you finally decide it's the big day, and you take the stage. But wait a minute, what are the results. You don't know? Weren't you expecting a content ROI as you do in all your other endeavors?
If, as a B2B marketer, you are not measuring your content marketing ROI, then let me break it to you that you are not alone.
Many B2B marketers haven't been doing so, and content marketing institute claims that 26 to 27 percent of them say this because they don't know the true definition of content marketing success.
Plus, the criticality of measuring the effectiveness of content marketing is also not known to many. In any case, your Content ROI should be above zero. If you get zero or a negative number, you will easily know that your strategy is not effective, and you are unable to fulfill your content marketing goals.
The Content ROI Struggle
The traits of a good digital marketer do not involve operating merely on hunches but on firm, reliable and accurate data. Their most common attribute is that they depend on proven information to inspire their decisions in the next steps that they need to take to move forward in their content efforts.
As a B2B marketer, you will realize that the struggle to measure content ROI is real. According to a report by the Technology Marketing Community, 38 percent of marketers quote measuring content effectiveness as one of their ultimate challenges.
The vital content marketing metrics B2B marketers can use to measure their results
So to overcome the challenges of content ROI, look into the following key metrics, and you will know the perfect direction to measure the effectiveness of your content:
Volume and Production cost of content
This is mostly overlooked, but it's never possible to measure the content ROI without assessing the rate at which you're publishing content. Along with this, you need to evaluate the cost of each piece of content.
In the case of outsourcing, measure how much you pay per piece, including the efforts and other content resources that you put in.
If your content is created in-house, track the hours spent on each piece of content and compute the hourly cost of content production.
Web traffic
Web traffic is an easy metric to measure and involves analyzing the flow of traffic on each and every page of your website. When you monitor web traffic, you know which content is popular among your readers. You can use analytic software such as google analytics to measure web traffic.
The varying traffic aspects include:
Overall web traffic
Communication channels
Views per page
Referral traffic
Popular landing pages
Unique sessions
Bounce rate
The above-identified features will be very valuable to measure your content marketing program. This calls to show that if your site's overall traffic is low, you need a higher focus on evaluating your content and then promoting it.
Hint: To be an efficient player in this field, you can use the source of traffic data to determine the channels that bring the highest traffic to the site. Once this is found, you can use all these in your future content promotion campaigns.
Moreover, make it a point to conduct a thorough competitive content marketing analysis to understand the strengths, weaknesses, and opportunity gaps of competitors' activities.
Also, note that the bounce rate is one of the most important elements here as it shows the duration of the visitors on your site and their frequency.
A low bounce rate is a good signal. It shows that people are exploring your site and even returning to it. It also tells you that you have put your content resources at the right place, helping you to generate more leads and, consequently higher sales from your content.
Number of qualified leads
Lead generation refers to the process of fascinating and converting prospects into somebody who has portrayed some form of interest in your company's product or service. Different types of content will generate varying numbers of leads for you.
Its always about generating revenue for your business, so marketing's main aim is to drive leads for your business — and content can be your savior. Demand Metric states that in case of a well-crafted strategy, content marketing generates 3 times as many leads as outbound marketing, while costs 62% less.
So how to measure the number of leads that you get from your content marketing efforts? This can be done through the following:
Tracking CTAs in terms of form completions
Tracing Conversion rates, which are conversions divided by the number of visitors
Measuring content downloads
Sales volume
Now, this is the most important metric to measure the performance of your content marketing because at the heart of all your marketing effort lies the actual sales.
Once you get a number of leads in your portfolio, you need to encourage them by sharing the right content. Just bear in mind that sales volume can be measured both online and offline.
In the case of an e-commerce website, this can be measured as the number of purchases made from the website. Similarly, offline businesses invest in a piece of content to boost their offline sales.
The following ways can help you track sales:
Page value to give you an idea of the page in your site that has contributed more to your site's revenue
Number of purchases completed at a given time
Conversion rate in terms of visitors that actually make a purchase
The turnaround time of visitors to make a purchase
Click through Rate (CTR) calculation
The CTR can be measured through: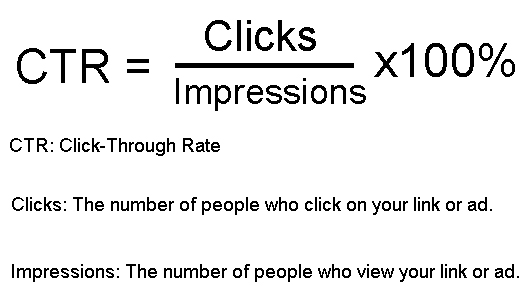 A low CTR indicates that you are not marketing the right kind of content to a particular segment, while a high CTR indicates a good response from the audience. This metric will help you to improve on your campaign so you can generate even more favorable results for effective content marketing.
Social media engagement
If your content is attracting social shares, this is an evidence in itself that your content is of high quality. The measure of social media engagement will give you the idea of which content echoes well with your target audience.
For this, you can keep track of the following:
Likes/Comments: depicts the popularity of your content
Content shares: exposes your brand and content more
Views for video campaigns: how many visitors view your videos
Increase in followers– the prospects that are following you on social media on a regular basis
Are people sharing your content on social media? If not, see below what type of content people are most likely to share:
Search Engine Optimization (SEO) Success
Here comes the difficult part. SEO success is, no doubt, a very important metric to determine the performance of your content marketing campaign. And for this, your need to conduct a content audit to determine the keywords that are already ranking as well as others that optimize your content's performance. The key elements of SEO include:
Domain Authority: Are people spending more time on your site? Are they linking to your site considering it to be a credible source? You need to assess the improvement in terms of DA of your site.
Keyword Performance: Preferably, your content marketing approach should involve converting on certain keywords, brand keywords, and long-tail phrases. This will lead to improvement in your SEO performance.
Backlinks: These are an important aspect of SEO tracking, as these help you determine the inbound links that are connected to your content.
customer retention rate
Another important metric that you need to evaluate to understand your content's strength is the power to keep as many customers as possible. How is this achieved? You can accomplish it through customer loyalty programs or rewards for your old customers.
Along with the benefits attached, Harvard Business Review also states that it costs 5X more to attract new customers than to retain old ones. Given the stats, B2B marketers' focus lies on building high customer retention rates.
Some of the metrics that can be measured in this regard are:
Customer Churn Rate (CCR) refers to the %age of clients who have stopped purchasing over a period of time.
Repeat Purchase Probability (RPP) is the assumption that customers will make more purchases
Repeat Purchase Rate (RPR) involves the percentage of repeat customers
Average Order Value (AOV) calculates the amount spent by customers on each and every purchase.
Profitability per Order (PPO) measures the profit gained on individual purchases.
Customer Lifetime Value (CLV) is an estimate of how much revenue an average customer will make for your company over time
Customer Retention Rate (CRR) is the percentage depicting the number of customers who have stayed with your brand over a certain period of time.
Parting Thoughts
Content is still the king, and there is a definite reason for it. If you use the right content tools, then you can surely make the much-needed mark. But before that, it's very important to know your content performance. You need to access how profitable and effective your content marketing efforts truly are by measuring the content ROI.
Even if your marketing campaigns generate high traffic, this does not necessarily mean they are bringing in the right amount of revenue. So you need to dig deep and evaluate other content marketing metrics like quality of leads, sales, social media engagement, etc., to know whether the campaigns are producing the desired results.
As a B2B marketer, you know that there are many other metrics you can use to gauge the effectiveness of your content, but the end result should be that you determine the profit and loss and then mold your campaign strategy accordingly.
So carry out all the necessary calculations and take your content in the right direction!
Image Source:
https://blog.scoop.it/wp-content/uploads/2015/11/68DA540A-EABB-B014-53D4-2B90617C7F95.jpg
https://image.slidesharecdn.com/contentmeasurement-170324000356/95/how-to-measure-content-marketing-roi-for-each-stage-of-the-funnel-4-638.jpg?cb=1490313989
https://neilpatel.com/wp-content/uploads/2018/05/An_A-to-Z_Guide_to_Google_Analytics_for_Content_Marketers___Convince_and_Convert__Social_Media_Consulting_and_Content_Marketing_Consulting.jpg
https://cdn.prdaily.com/wp-content/uploads/2019/07/Social_index_2019_01.png
https://kimgarst.com/wp-content/uploads/2015/07/What-People-Like-to-Share-on-Social-Media.png
https://i.pinimg.com/originals/d2/17/43/d217435bbd84c7c901e7bb3a3b3cf1f8.jpg