"Success isn't always about greatness. It's about consistency."
The above quote by Dwayne Johnson gives me an inspiration for a lifetime, and so I always give multiple shots to all my attempts before giving up.
I believe that the content marketing scheme works similarly. You need to produce content consistently to enjoy the benefits associated with this important "king" of the marketing umbrella.
Let me also tell you that if you are a savvy B2B marketer looking to create long-lasting bonds with modern customers, then Content marketing is your most valuable armor. The Content Marketing Institute reports that 91% of B2B marketers use content marketing to reach their audience.
There are many objectives B2B marketers plan to fulfill through their content marketing practices.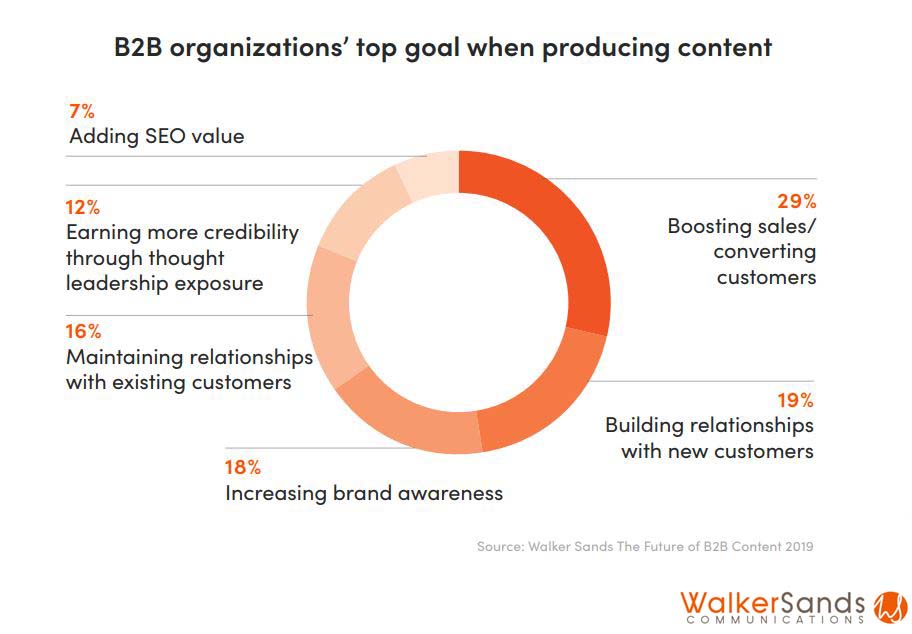 Realizing the importance of content marketing for B2B organizations, it's imperative to delve into the ways for producing content consistently to stay ahead in the game.
Tips for B2B marketers to excel in producing content consistently
Coming up with new content ideas consistently still remains one of the biggest challenges content marketers face in any vertical.
It is always easy to think of something to write about when you are just starting, but if you are an old player in the content marketing game, you have probably come across a drought of creative ideas at some point.
So to minimize the challenges, let's look at some tips B2B marketers can use to achieve their content marketing goals:
1. Identify new topics in your niche
Social media is one of the best channels that help you identify new topics in your niche.
There are a number of tools for B2B marketers that can help you with this. These tools let you analyze real-time data to identify the trending topics within your industry. This is where you can get a starting point. Prepare content that depicts a new angle or a counterpoint of an existing topic relevant to your business.
Consider the example of BuzzSumo, where it helps you examine data from across all major social networks to determine topics in your industry that are attaining the most traction.
2. Carve out time and resources to make it work
Only full-time writers can dedicate a major chunk of their time to writing. Otherwise, at times, you probably don't have quite as much time as you'd like for content creation. So hiring a team is the best option.
Research by MarketingProfs and the Content Marketing Institute states that 73% of all B2B organizations have someone responsible to look into their content marketing strategy.
For producing content consistently, you need to Block time off. If your content and your brand is important to you, you need to make things work in your favor. So make every effort to create appealing content, including putting it in your calendar and mapping out the type of content you want to create. Remember to test it and repeat.
For example, it would be ideal if you reserve a day of the week for podcasts, a day for videos, a day for deciding on the type of content, and so on so forth.
3. Consider audience preferences at all levels
Finding out what your audience wants and giving it to them is key to getting success in producing content consistently.
Social media and other forums again play their part in helping you find out the audience's preferences. Once you come across a rough topic, you can list the question and problems that people have around it.
Furthermore, you can delve into what already exists for the topic at hand. Once you are equipped with the information on what people want, their problems, and the existing content – you are armed with almost everything you need to produce amazing content.
HubSpot proves to be an excellent example of how to do B2B content marketing the right way. It covers everything from detailed guides to free resources, being the first port of call for marketers of all disciplines.
4. Follow a content calendar
Once you have the writers and topic ideas in place, it is time to start scheduling your content.
It should be a recurring practice of gathering ideas, approving them, and then slotting them into your calendar. It also involves getting the outline approved and then putting it into its final form. This way, you will have a complete plan for a week or two, making you consistent in creating content beforehand.
Furthermore, you can sync your content calendar with your product and service launches. So, before your new product or service is released, you train your customers, thus creating a demand for that product or service. Also, you can make use of content calendar tools to organize things with writers much easily.
5. Repurpose old content
For creating quality content, you don't always have to start from scratch. The content that you have under your brand name has the tendency to create further iterations and spin-offs.
You surely know that constantly producing new content week in and week out is expensive, and at times, the results are not that promising.
So you can always break your longer pieces into shorter posts or expand any shorter ones into longer detailed versions. You always have the option to turn a guide or any infographic into a series of blogs and vice versa.
Hint: Work every combination and examine different ways to deliver valuable information to your audience.
One of the great examples of repurposing content is that of Amadeus, where it invested in an in-depth whitepaper called Managing every Mile by the London School of Economics. This paper explains how to deliver ROI from employees' travel and expenses. After financing this content, Amadeus worked on atomizing it by creating blog posts, articles, and infographics from it.
Just remember that even when you're repurposing any piece of existing content, make sure to have an editorial calendar.
6. Grow your team
Generating new ideas and producing content consistently calls for collaborative efforts.
All the investments that you make in creating unmatched content are actually beneficial in generating leads and other prospects through the power of your content.
These leads are sure shot ways to extend your reach, and hence your customers. So it's always a viable option to include more members in your team to pour in more ideas and avoid any deadlocks in producing content consistently. This helps you get more loyal customers and develop strong bonds with them for years to come.
Parting Thoughts
When you create quality content consistently, you become a source of information for many. Your brand image becomes reliable, and the readers look onto you for valuable information.
Content marketing is a game-changer, and if you create content every now and then, it will definitely pay off in terms of getting more customers and business, making you stand out among all your competitors.
So equip yourself with the wheels of content creation, and success is just around the corner.
Image source:
https://www.digitalmarketingcommunity.com/wp-content/uploads/2019/07/top-goals-of-producing-content-for-b2b-organizations-2019.jpg
https://mahlab.co/wp-content/uploads/2018/03/Managing-every-mile.png
https://www.wordstream.com/blog/ws/2016/12/01/b2b-content-marketing