Another year has begun, and one thing still remains relevant– the power of SEO. Most online experiences still begin with a search engine. So, monitoring your search engine performance is still important. For this task, I find my SEO audit tool to be my savior.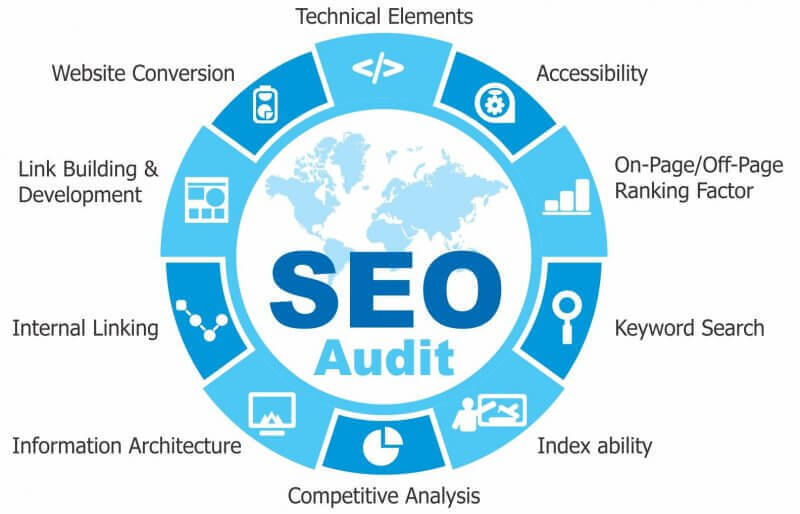 However, such tools can only help a digital marketer if they are well aware of the different ranking factors of Google. While no one knows the exact weights of the algorithm, according to Google, backlinks and content are among the top factors for ranking a web page.
You can easily use an SEO audit tool to monitor your website's performance with regards to the different ranking factors and thereby identify potential optimization opportunities.
Picking the best SEO Audit Tool
To conduct a thorough SEO audit, you must choose the right tool. The best way to do so is by making sure that the tool you select has the following features:
Crawling and Indexing: Ability to detect robot.txt files and sitemaps.
Mobile-friendliness assessment: Gauging your website's mobile responsiveness through factors like page speed, mobile compatibility, touchscreen readiness, etc.
Tracking keywords: Monitoring the performance of your included keywords as well as suggesting words you should optimize your site for.
Site Crawling: Successfully duplicate content, broken pages, non-indexable pages, etc.
Usability: A simple interface and a straightforward dashboard to ensure convenience.
My Top 4 Picks
You might think that finding a quality SEO site audit tool is quite complicated. After all, do all the tools out there really deliver the required elements? Probably not all of them. But, there is a fair share of tools that do fall on the mentioned criteria.
Finding one SEO audit tool worth recommending can be very tricky. Hence, I have listed down my top picks for 2021, in no particular order.
Ahrefs
I find Ahrefs to be the best seo audit tool out there. Why? Well, it is an immensely comprehensive solution. Whether it be off-page or on-page SEO, there are features available for tracking and perfection it all. This is why the tool plays an important role in boosting the overall ranking of a website.
A Health Score
Ahrefs crawls all your webpages and then provides an overall health score regarding your SEO performance. Its dashboard also helps visualize all the key data via easy to understand charts. Additionally, it also flags all SEO related issues and provides recommendations about fixing them.
A Comprehensive Report
After conducting the site audit, the tool depicts it all in the form of a printable report. Here are some of the issues that are identified by Ahrefs:
Performance: Large CSS, slow pages, etc.
Quality of content: Short blogs, duplicated pages.
HTML tags: Short title tags, incorrect meta descriptions, missing tags.
Incoming and outgoing links: Detecting orphan pages and broken links.
Site Structure
Somewhat recently, Ahrefs added a site structure report in its SEO website audit tool. The report regarding the site structure allows marketers to identify the subsections within a website that feature the most backlinks, the most redirected or broken pages, or have pages that are underperforming in terms of SEO.
Verdict
For those of you who prefer free seo tools, Ahrefs might not be your cup of tea since the tool is available for a premium price. Additionally, it is quite complicated for newbies.
However, if you are a seasoned digital marketer who doesn't mind putting in investment to reaping the rewards, you will surely like what the tool has to offer
Google Search Console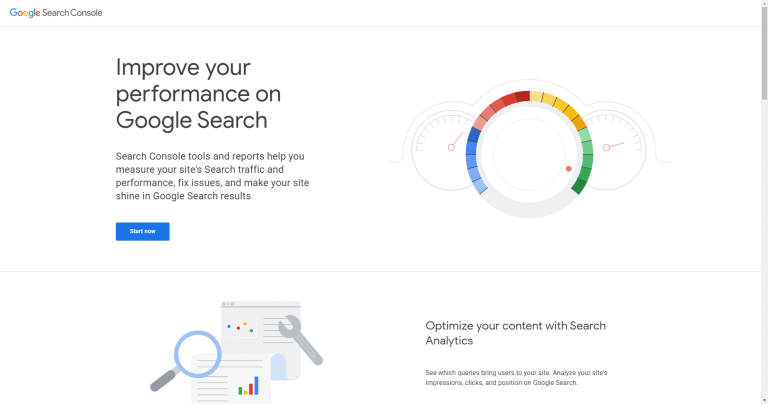 People who wish for free SEO tools for their business are likely to find Google Search Console to be the best option available. The free tool is ideal for beginners and offers all the key insights ranging from page load speed, broken links, indexed pages, etc.
Performance Overview
Just like Ahrefs, Google Search Console also provides a summarized overview of your site. The only difference here may be the level of depth provided. But, for a free SEO audit tool, Google Search Console does not disappoint. It gives information about the current SERP position, click-through rates, site impressions, etc.
Accelerated Mobile Pages
One of the best tools provided by Google Search Console is the Accelerated Mobile Pages. This feature makes the job of web developers easy by providing template codes that help in creating a fast mobile experience. Considering the importance of quick load speed in today's time, this feature can make all the difference.
Site Links
The Site Link feature optimizes addendum links present on the website. This includes links like contact Us and About. Google has the upper hand in deciding how the links are displayed on its search engine. By optimizing these links via relevant and meaningful content, the tool increases the chances of your site getting a high rank.
Verdict
Compared to other free options, I think Google Search Console is by far the superior free website audit tool. If you have very specific and in-depth needs, you might need something along with this tool. Regardless, since it is free, it is a great resource to use when auditing your website.
SEMRush
A lot of marketers find themselves opting for this seo audit tool. After all, it is the industry leader in SEM and SEO software. The solutions offered include an on-page SEO checker, technical SEO, backlink audits, etc.
Technical SEO
The technical aspect of the SEO tool revolves around crawling each of your webpages to detect over 130 types of error. The sheer ability of the tool to detect this many errors means that there is quite a slim chance that an error will go unnoticed once you use this tool.
On-Page SEO checker
Content is and will probably always be imperative in the world of SEO. Merely adding the right keywords does not optimize your website. Instead, to rank on the chosen keywords, your pages must incorporate the words in the right density and context. This is what the on-page SEO checker assesses.
Backlink audit
As mentioned previously, backlinks are among the most important factors of SEO. The last thing you would want is to have your ranking suffer because of low-quality links. This feature helps in identifying and filtering out any toxic links that might exist within your website.
Verdict
Since SEMRush is quite a pricey tool, it is best suited for digital marketers who wish to conduct a very thorough SEO audit. However, there is a free trial version also available for people wanting to see if the investment is worth it.
WooRank
WooRank is yet another SEO auditing tool that ticks all the right boxes. Just like Ahrefs, it gives your website a score based on its overall performance, usability, SEO efforts, and social media presence. Some of its distinguishing features include:
Competitive analysis
Rather than just focusing on your website, the tool goes an extra mile to monitor the SEO performance of your competitors as well. For instance, its keyword tool helps in identifying which keywords your rivals are ranking on to help in pinpointing what words you might be missing out on.
Technical Audit
The tool analyses thousands (if you have them!) of your web pages daily to offer the latest updates about your website's technical performance. Rather than just listing down the issues, WooRank allows its users to gain an understanding of any unfamiliar technical issue that they might find. This helps in ensuring that the right measures are taken against the errors detected.
Verdict
Since the tool has both a free and paid version, it is a worthy solution for both types of users – those wanting comprehensive insights as well as marketers looking for a basic tool.
Which one is the best tool to do an SEO audit for your website?
I am sure you by now, you might be wondering, "well, which tool should I go for, then?"
I wish the answer to this question was simple. Alas, it is not!
You see, every marketer and business has unique requirements. What might be best for me might not be the ideal solution for you.
For instance, let's say you are looking for an SEO auditing tool for your startup. Due to budget constraints, Google Search Console is probably your best bet. On the other end of the spectrum, if you are working for a well-established FMCG, the tool might be too simple for you. Something along the lines of Ahrefs will work for you.
So, you must first take a step back and analyze your SEO needs. How thoroughly do you want your SEO audit to be? What is the budget you have for your effort? What features do you want in your tool?
Once you answer these questions, you will automatically find the best tool for you from my top picks.
Ending Remarks
As all of us adjust to the new norm of the highly online-centric world, it is now more important than ever to focus on your SEO strategy and boost your ranking.
Whether you choose the tools, I mentioned or pick one from your own research, make sure you do use an SEO auditing tool. If you don't do so, you will end up losing out on optimizing opportunities without even realizing it!