I think all of us are past the phase of underestimating the power of social media. After all, Statista reports that, as of 2020, there are over 3.81 billion users of social media. Personally, I love just how beneficial social media has been for marketers. Many now use social media for link building.
You read that correctly! And if you are a conventional marketer, you might be confused.
This is because link building and social media marketing are considered to be two different branches of digital marketing.
For starters, Social media is associated with advertising. For instance, according to eMarketer, revenue generated from social media advertising in the US alone amounted to 43.5 billion USD. And Statista further reports that in 2019 the worldwide ad spent reached 90 billion USD.
On the other hand, link building, a part of SEO, is among the top-ranking factor on search engines. Yet, according to Social Media Today, over 94 percent of the content online features no backlinks!
The good news is that the two branches do coincide. And it turns out that you can improve your link building through your social media presence.
How to Use Social Media to Earn Quality Links
You must include social media in your link-building strategy to improve the chances of attaining quality backlinks. This is because, considering the sheer power of social media, it provides the exposure your brand needs for getting the right kind of attention.
Here is how you can use social media for link building.
Add your website content on your social media profile
Your social media profiles can act as excellent tools for getting quality links. The chances are that your social media reach is much higher than the traffic on your website.
This is natural, considering the never-ending craze for social media. An analysis conducted by Digital Information World revealed that an average user spends 142 minutes a day on social media. Facebook alone has over 2.4 billion active users.
By merely sharing your website content on your social media profile, you are likely to reach a wider audience. This is because if the content is perfect, users might share it. And social shares increase the chances of getting a high quality backlink.
Also, while you are at it, also mention your website's URL in the about tab of Facebook or the bio of Instagram.
Buzzfeed is an excellent example of this. The internet media and entertainment company use Twitter, Instagram, and Facebook to increase the reach of each of its post.
Collaborate with bloggers and brands
At the end of the day, to get any type of backlinks, including social media backlinks, you need to target bloggers. After all, blogging and guest posting is the best link building strategy.
It turns out that social media helps in the outreach process. While you should certainly write a killer outreach email to the bloggers, you wish to work with, being social-media friendly is also a great way to get on their good side.
This is because both bloggers and brand prefer social media interactions since it helps in boosting engagement and hence improve social media link building opportunities.
So, how do you connect with bloggers? Simple! You should begin by developing a list of bloggers or brands you wish to get links from. Follow them on social media and frequently engage with them via retweeting their content or commenting on their posts.
As you engage with their content, you will notice that they will begin engaging with yours.
Create viral content
Do you remember the famous ice bucket challenge? Personally, it is my favorite piece of viral content. The challenge, driven by a consumer, helped in raising a lot of funds for ALS Association and Motor Neuron Disease Association.
This is just one example of the type of viral content that rules the internet and, by extension, social media. When using social media for link building, you can leverage its power to make a given content viral, thereby increasing your backlinks.
However, creating viral content is not a piece of cake. In a world where every brand is trying to stand out and end up in the trending list of YouTube or hit a high number of retweets on Twitter, viral content can be hard to develop. Therefore, make sure to:
Develop a unique idea
Ensure that your campaign evokes emotion to increase social share
Write in an engaging and conversational tone
Use visuals wherever possible
Make it interactive so that people can contribute to it
Do it right and watch as people engage and tweet your content, thereby increasing the probability of getting backlinks.
Join communities
Among the popular social media link building strategies is community building. To be honest, community building is great overall. According to Potion Social Software, 86 percent of Fortune 500 companies use communities to gain consumer insight.
If you select the right community to contribute to, you can end up getting a social media link for your business.
For instance, there are various niche communities for bloggers on social media. Joining such groups help in expanding your network. It can also help you in identifying bloggers and brands to reach out to for link building.
Just like the first point, such groups allow you to actively engage with other bloggers and create a fruitful relationship with them. If you do so, there is a higher chance that they will include links to your site if you ask them to.
Don't forget Pinterest
For some reason, marketers often overlook Pinterest. It is understandable. Naturally, when you think of social media, you automatically consider Facebook, Instagram, and Twitter. That's a shame because Pinterest can actually help build links quite well!
Why?
This is because one of the best ways to build links is through visual material. According to Visme, Infographics can help increase website traffic by 12 percent. This is not surprising, considering how much bloggers love incorporating infographics in their content.
Since people love linking and including great images as well as infographics in their content, leverage this preference by developing your company Pinterest. Include lots of infographics and visual content that will be beneficial for the masses.
Here is an example of Mashable acing the Pinterest game! It has the perfect mix of infographics, photos, and content on its platform.
Do Links On Social Media Count as Backlinks?
The short answer is no. Social shares don't really improve your backlink counts.
This is because they are classified as no-follow links. In other words, they don't pass any authority from one platform to another. Therefore, while social shares might appear in a business's backlink profile, they are not included when gauging your site's authority and ranking.
Does this mean that social media links are useless?
Not at all.
As we have mentioned throughout this guide, social media links help in increasing interactions users have with your brand. And the more users that see your content, the higher is the chance of getting a blogger to link back to your site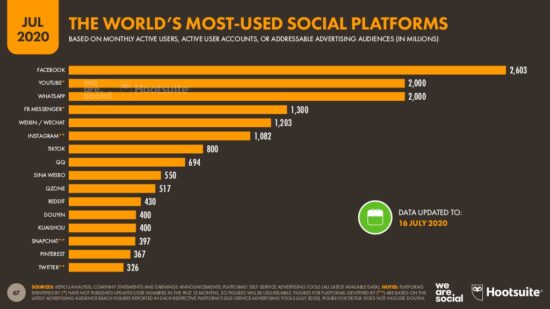 Not to mention that the more interactions there are, the more credible your business becomes.
Think of it this way. Let's say you are writing a blog, and you come across research conducted by a blogger. You check their social media presence to discover that they are nonexistent online. Will you include the research in your blog? Probably not, since you aren't sure of its validity.
Just like this, social media shares help relay the credibility and authenticity of your brand.
So, while social media links may not directly count as backlinks, they do increase the chances of your business building links – a point I have consistently reiterated (maybe, a tad too much!) throughout this guide.
The Hidden Benefit of Link Building through Social Media
Link building might be the most challenging aspect of SEO. This is because, at the end of the day, it puts you at the mercy of others. You need to reach out to external parties, whether it be for guest posting opportunities or for mentioning your brand in their content.
This is why many marketers struggle with this SEO tactic – especially through social media.
However, if you look at the flip side of the coin, link building tactics actually help in improving your communication and content writing skills.
Remember, no brand or blog can exist in isolation. You need others, and they need you. By encouraging the development of such mutually beneficial relationships, link building drives an important point across. And there is no better platform to build connections with the masses than social media.
Ending Remarks
As a marketer, I find social media to be a blessing. Whether it be for paid campaigns, gaining consumer insight, or using social media for link building, all bloggers and brands should utilize the power of social media to the fullest. After all, we are lucky enough to exist at a time when we can reach the masses while sitting in front of a screen. It will be a shame to let this opportunity go to was
Image sources:
https://www.smartinsights.com/wp-content/uploads/2020/04/Worlds-most-used-social-media-platforms-550×309.jpg
https://mk0hootsuiteblof6bud.kinstacdn.com/wp-content/uploads/2024/05/social-media-advertising-statistics-1.png
https://www.dreamgrow.com/41-great-examples-of-pinterest-brand-pages/
https://www.disruptiveadvertising.com/social-media/social-media-quizzes/
https://www.searchenginejournal.com/social-media-marketing-link-building/214686/