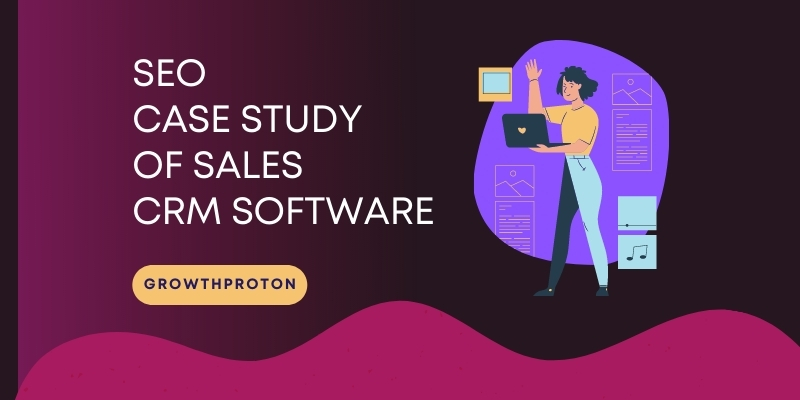 SEO is crucial for the success of all websites. After all, as per Advanced Web Ranking, approximately 67 percent of all clicks go to the first five listings on search engine pages!
Many businesses don't realize that SEO is an umbrella term used for a variety of techniques. While each of the SEO tactics is important, one of the most challenging ones to execute is link building.
According to Search Engine Land, links are amongst the top two metrics for ranking pages on Google. And as per a survey conducted by Ascend, 13 percent of experts find link building to be the most essential SEO tactic.
One of our clients – a Sales CRM software, was also able to realize the benefits of quality link building.
An Overview of the CRM Software
Our client is a small-scale Sales CRM Software. As the name suggests, the business revolves around offering solutions to other firms to effectively manage their customer relationships and interactions.
One of this CRM software's best features is that it doesn't offer one standard solution to all its clients. Instead, there are a plethora of services available, which are categorized according to goals sought.

For instance, businesses that wish to use the CRM software to boost their sales can use services like sales pipeline, email-tracking, built-in calling and activity tracking, etc.
On the other hand, businesses that aim to have a customizable solution can choose their "flexible to fit" solution where the software can be altered according to the business's sales model.
The Challenges Faced
Despite the fact that the Sales CRM software had an excellent business model and offered a wide range of beneficial services to businesses, it still faced some obstacles. This included the following:
1. Low organic traffic
For sales CRM software, the only way for the business to convert customers is through its website. Hence, it is imperative that the site features high organic traffic, which can then translate into potential customers.
Without having enough people to look at your solutions in the first place, it is impossible to convert them. The software was visibly struggling to get organic traffic to its pages.
2. Poor online visibility
SEO tactics that help boost your page ranking help attract people who either know about your brand or trust Google to deliver the best services in the top search results.
However, there is much more to online visibility than the ranking of the business's website. You must also ensure that your service is the talk of the town – at least digitally. This helps in improving the credibility of the site as well as increases online visibility.
The CRM software did not have enough links from other credible sources for high visibility.
The Steps Taken
To help CRM Software, we helped increase organic traffic as well as boosted month-on-month conversions via the following measures:
1. A Thorough Research of the CRM software and sector
We understand that no two businesses are alike. Additionally, the CRM sector faces challenges and opportunities that are unique to the industry. To best create a strategy that would help our clients, we began by conducting research on the software as well as the industry at large.
Throughout the practice, the goal was to find ways to boost online visibility, increase traffic, and hence improve conversions.
2. Implementing Link Building
Upon understanding the business and its solutions, relevant websites were identified for link building purposes.
Strategic guest blogging, infographic creation, and competitor backlink analysis were conducted. Additionally, quality links from other websites were added in the blog of the software to boost its credibility as well as to form profitable relationships with other platforms.
3. Using Product Awareness strategies
Apart from SEO, marketing tactics were also used to create a favorable image of the brand in their potential consumers' minds.
To do so, product awareness strategies were implemented. Such promotional material helps in increasing recognition of the CRM software, which helped in generating leads.
The Results
Via the steps taken, the client's website witnessed a whopping 400 percent increase in its traffic in seven months. This eventually helped in improving conversion rates as well as lead generation of the CRM software.
Since organic conversions helped the client lower down its customer acquisition costs, it was effectively able to improve its revenue.
Lessons for All
This case study proved to deliver insights, useful for all businesses. The lessons learned include:
Off-page SEO tactics are just as imperative as on-page strategies.
Online visibility is the first step to increased revenue.
Every SEO effort must begin with research about the business.
Better traffic, conversions, and leads are possible for any business. All you must do is identify the current weaknesses of its digital presence and work to fix them!